With ESN Košice you are never alone!
As the Valentine´s Day approached, one of the ESN Košice cultural coordinators Patricia Mihalikova got together to come up with an original way to spend this festival of love and friendship. There were two events that our Erasmus students attended, namely a Valentine Workshop organized in cooperation with the Elementary Art School Irkutská, and a Valentine Ice-skating which was organized by the mayor of Košice in Crow Aréna. Annie Benova, ESN  Košice local SocialErasmus coordinator and other cultural coordinator, Lenka Janovcova joined as well.
A Valentine Art Workshop
The aim of this workshop was to give our Erasmus students a chance to create lovely handmade presents for their beloved ones, or a nice piece of decoration that would brighten up their dormitory rooms. The principal of Elementary Art School Irkutská kindly allowed us to use their premises and Mgr. Zita Borszeková opened up her art studio for our creative group. The atmosphere was very inspirational and the burst of fantasy and creativity made the final products extraordinary. We learned how to master Quilling, the technique of rolling the stripes of colored paper into various shapes, and then we created our own Valentine cards.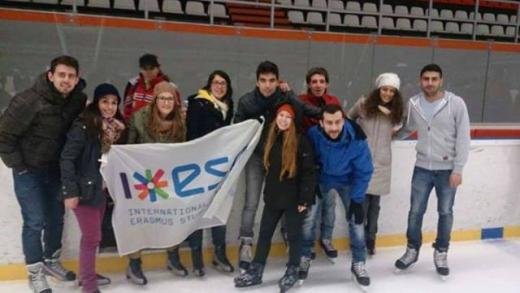 A Valentine Ice-skating
Ice-skating turned out to be even more popular and our Slovak-Spanish-Syrian-Turkish group of brave-hearts, since for some, this was the very first time they tried ice-skating, had lots of fun. We helped and encouraged each other and after some time and practice, everybody could ice-skate. The Crow Aréna rink was quite crowded as there was no entry fee, but that was good in a way bacause the Erasmus students could see that ice-skating is a very popular sport in Slovakia and that there are no age limits in it, kindergarteners enjoyed it as much as the elderly.    
Amadeo Sánchez Calabuig shared his opinion on the event: "For me it was a new experience because I had never been ice-skating, though I used to rollerblade. It was nice to try a new experience and even see babies trying to hold one's balance, and I was surprised to see so many people on the track."
Response of Hassan Lakkis: "I am so glad that I participated with the ESN in the Valentine events for 2 days starting with the art workshop. It was nice, the centre was full of the interesting paints and we had fun and  we knew how to do most of the interesting shapes by papers ... Ice skating was fun, especially I was fighting not to fall."
Author: Patrícia Mihaliková, ESN Košice cultural coordinator