First Erasmus Ball
 ESN Košice organised with pride and pleasure the first Erasmus ball ever in our beautiful city, Košice. Erasmus Ball was a highlight of ESN Slovakia National Platform and it took place in Hotel Centrum on Sunday, 2.12. Among 150 guests were members of ESN Slovakia who participated at National Platform, local members of ESN Košice, organisation committee and of course the most important guests – our dear Erasmus students. Invitation was accepted also by Mgr. Renáta Timková, PhD., UPJŠ institutional coordinator of LLP and Oľga Ondrašovičová Prof.Ing.,PhD., vice-rector for international and doctoral studies at University of Veterinary medicine and Pharmacy who support ESN Košice at our work and we were pleased by their attendance at the ball.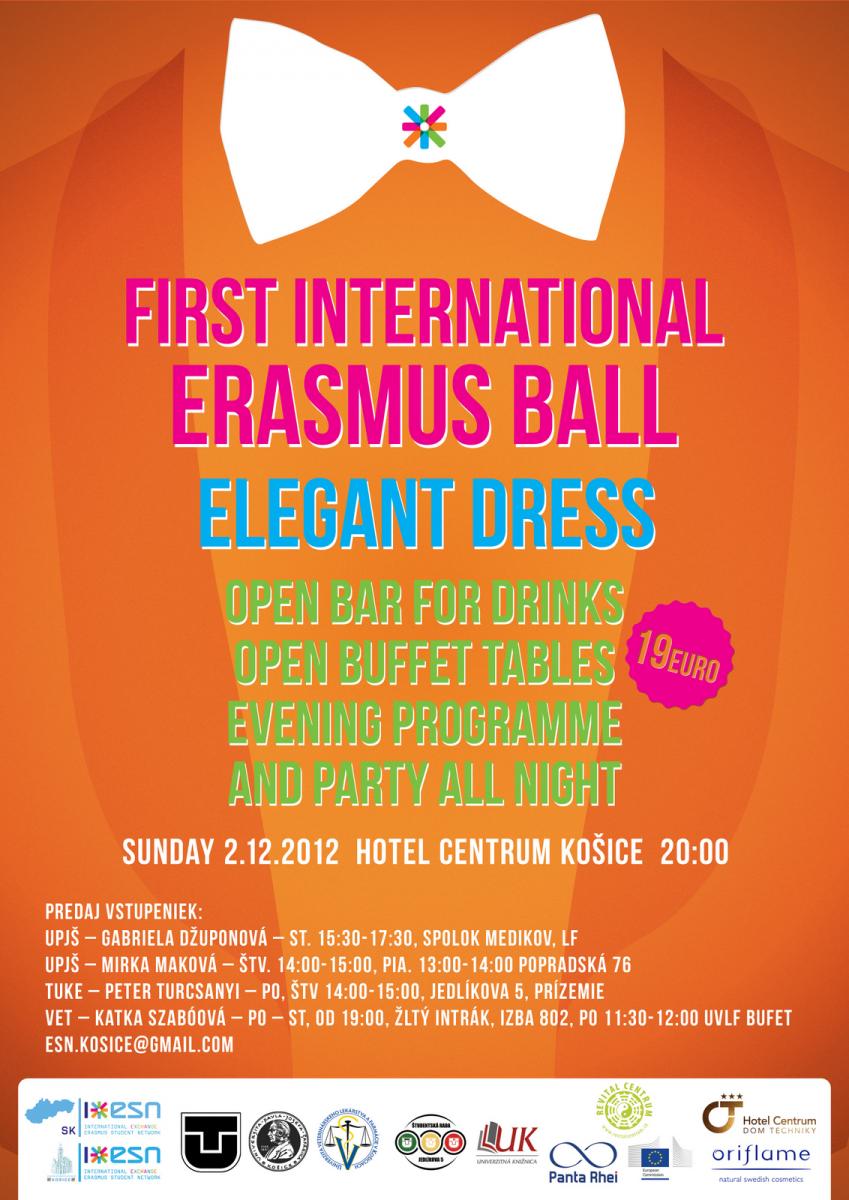 Ball opened latino dance by Michal Gemerský and his partner. After short welcome speech of Vanda Nutárová (O.C), our dear guests, Mrs.Timková and Mrs.Ondrašovičová were given the floor. The last speech presented Mirko Hajnoš, (ex)president of ESN Slovakia and members of (ex)national board 2012 of ESN Slovakia with symbolical goodbye and introduced a new president of ESN Slovakia, Júlia Marcinčinová from ESN Košice and new national board for year 2013. The ball continued with performance by folk dance group Hornád and dinner.
After the official part of the ball, everybody could come to dance floor and enjoy the music. Dance floor was always full of elegant girls and handsome boys. The midnight was time for tombola where ESN Košice in cooperation with many sponsors could provide amazing gifts such as massage, cosmetics, book about Slovakia, traditional Slovak wine and many other special gifts. After this little surprise followed late dinner and four hours of dancing.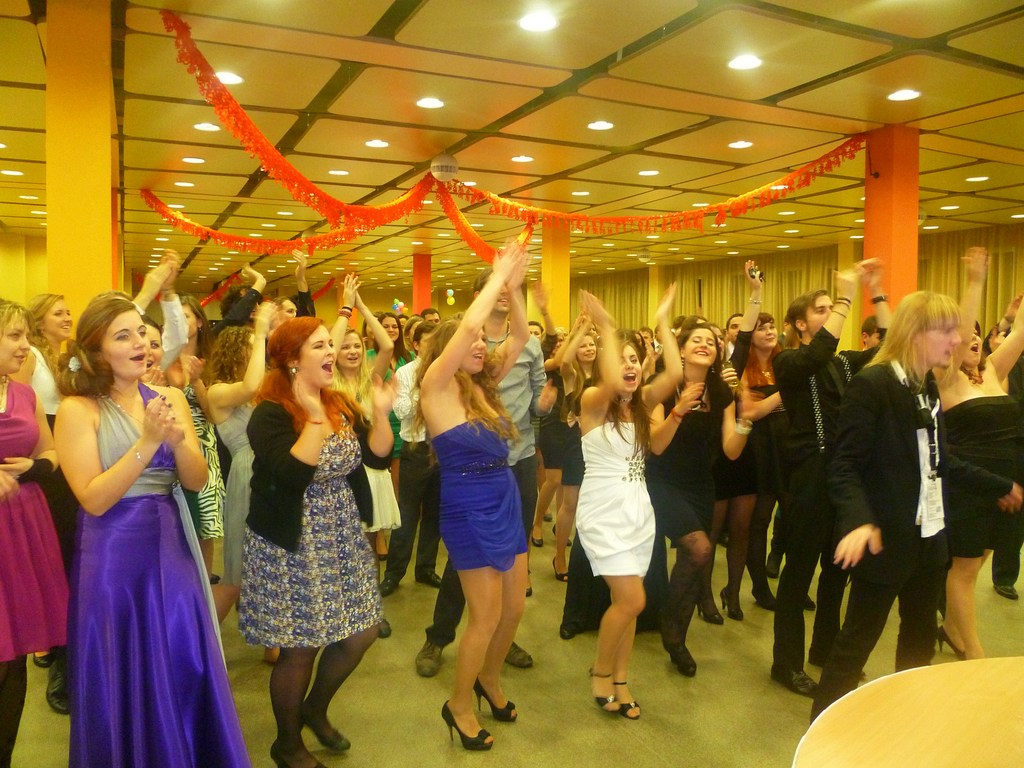 The first Erasmus ball in Slovakia was successful event and had favourable response. Thanks to all guests in ball mood and O.C of ESN Košice (Júlia Marcinčinová, Evka Daňková, Andrea Hanáková, Vanda Nutárová, Stanka Hajduková, Katka Szaboová, Jarka Ivanová, Gabika Džuponová, Gabika Fábryová, Mirka Maková, Jozef-Čech Špirek, Peter Turcsanyi).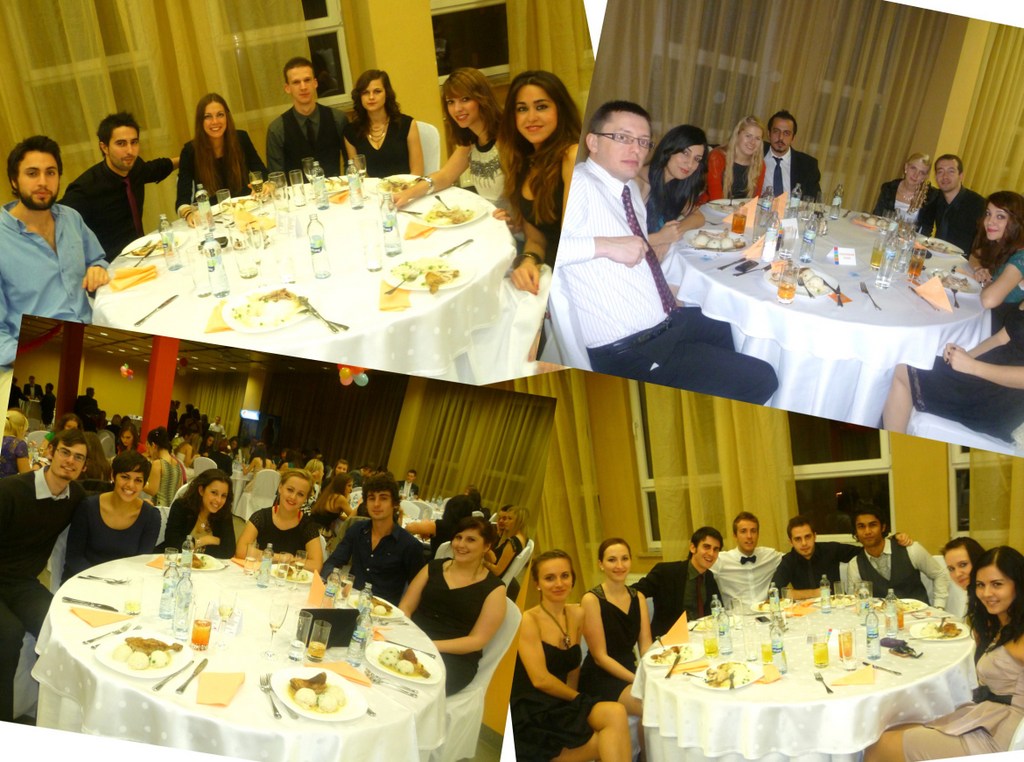 Enjoy the video by Pavol Verčimák (BEST member)
(author: Andrea Hanáková, ESN Košice vice-president)