Funny Tatra Day
On 4th February 2014 ESN members Gabriel Markovič, Annie Beňová, Barbora Uličná, Veronika Eibenová and Barbora Korchňáková organised a trip for 15 international students who came to Košice for language course EILC. The international crew headed from Košice to Tatra National Park, the oldest national park in Slovakia (since 1949) and a UNESCO Biosphere Reserve (since 1993).  The  highest peak of Slovakia, Gerlach (2 654.4 m above sea level)  is located in the High Tatras, which are part of Carpathian Mountains . There is also the symbol of Slovakia Kriváň (2 494.7 m above sea level). The park is characterized by the occurrence of more than 100 lakes and several waterfalls.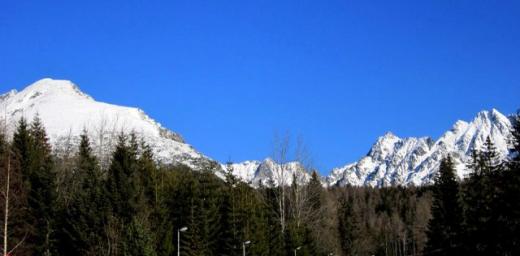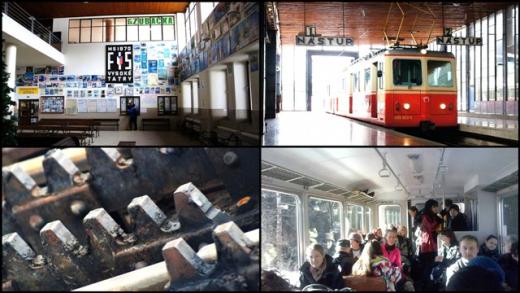 We traveled by train to Štrba, where you can find  the "oldschool" station, which looks like a museum. Then we traveled by special train - cog railway (Zubačka), which is just one of the two exemplars in Slovakia (since 1970).
We visited Štrbské Pleso, which is the most famous and most visited Tatra lake. We were walking around and enjoying the beautiful sunny weather.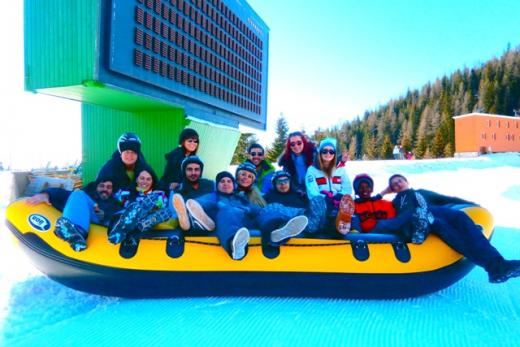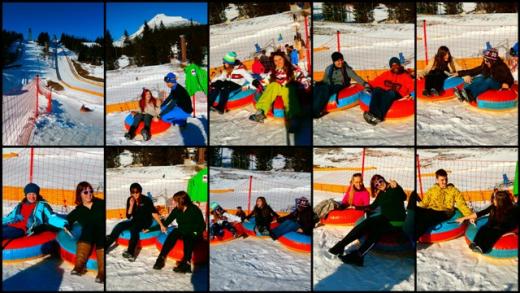 Later we already experienced a real winter adrenaline in the Slovak highest placed FUN PARK – Štrbské Pleso (1355 m. above sea level.). We tried snowtubing and snowrafting. This park is located in the site landing area ski jumps below the hill Solisko (made for the Ski World Cup in 1970).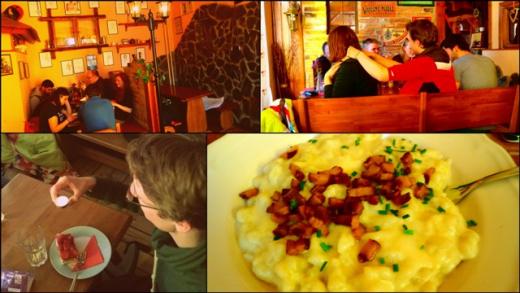 After this funny adrenaline moments we found a nice Slovak restaurant Furkotka. All of us ordered typical slovak meal – Halušky. It was really tasty and rich food. Everybody liked it. Christian from Germany celebrated his birthday two days ago, but in Tatras he received a birthday cake and birthday song by EILC group. After lunch we had fun  with Norwegian Ninja game HI-HA-HU :D
We were lucky to enjoy the beautiful  sunset, also the view of  the valley and the Low Tatras and then we decided to have some fun playing rugby at the frozen lake Štrbské pleso.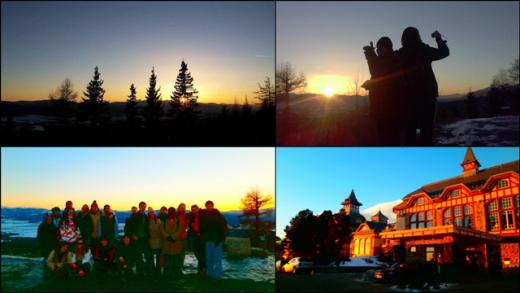 ESN Košice  would like to say many thanks to the nature and all the guys who became a part of the international crew and who created that friendly atmosphere we had. Let us check out their views and feelings:
Kisesa from Tanzania said: "The trip was well arranged. High Tatras are such a nice, clean and attractive place not only from far distance but also when you are close to it. They are well preserved and this is what makes them to be the best. Well, I felt like in Kilimanjaro Mountain in Tanzania but the High Tatras have some additional features like,  the frozen ice lake  in which when I stood up on top of it, I was like scared and walking very carefully until when we started playing Rugby on it. There is a train to take tourists to the near junction, which make it easy to go in one day and enjoy further more the presence of enough ice attracts many for skiing and other sports."
Hassan  from Syria commented: "Everything was great the starting with the morning meeting ending with us sleeping the public bus :P the weather was nice and we were lucky for that we enjoyed every minute of this trip ; simply cause the well organizing of the ESN members and the fun spirit of the EILCs. Halushki was present and the Norwegian Ninja game as well... I had a lot of fun and i would like to enjoy this kind of activities next time."
Helene from Norway: "I really liked our trip. It made me feel like I was home in Norway, so I loved the High Tatras. Beautiful mountains. Next time I will take a real winter clothes and I would like to go for a longer hike!  The day all together, was really really nice. Good job!"
Heidi from Estonia: "I am coming from country, which is flat as a pancake, this was my first encounter with High Tatras. Also with Bryndzové halušky. I prefer the Tatras."
Matthieu from France: "I would like drinking T*tea in Tatras practising Tatrasleigh everyday."
Eduardo from Spain: "I have plan to visit High Tatras again with my family in summer and see more of this beautiful mountains."
author: Barbora Korchňáková, ESN Košice PR & webmaster
photos: Barbora Korchňáková, Heidi Mesipuu