N2N Turkish Night 8/3/2017
Nation2Nation is back, first with Turkish night!
On Wednesday, 8th March 2017, our ESN team organised another one of the popular Nation2Nation nights! Thanks to our hosts we could learn something about Turkish history, geography, as well as try their traditional foods. Ridvan Topcu (Turkey) said that they wanted to show their traditional dishes for special days, so the guests were able to taste Kısır, Makarna salatası, Mücver and also a drink called Ayran.
As Ana Maria Cioflec (Romania) thinks, the most popular seemed to be Havuç topu,dessert made of carrots and coconut. How to prepare it, you ask? The answer is given by Oguzhan Cöten (Turkey): "Its like a meatball but we are using carrot instead of meat and some walnut, biscuit, sugar and margarine. So it can be seen as a dessert."
However, the night was made even more special for our female ESN members by a lovely surprise - roses and sweets from ESN guys as little International Women day gifts. Thank you, gentlemen, and also many thanks to our great Turkish hosts!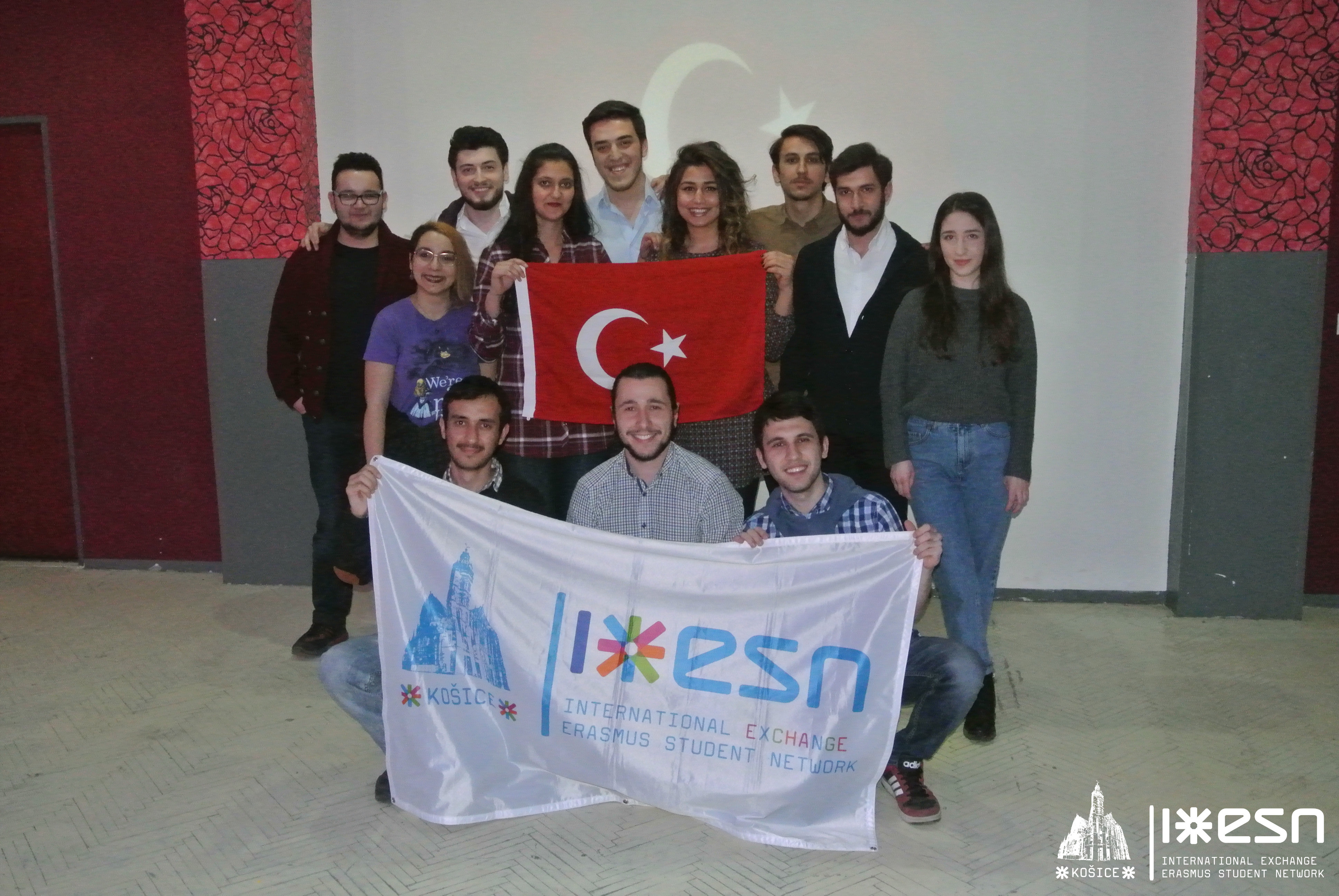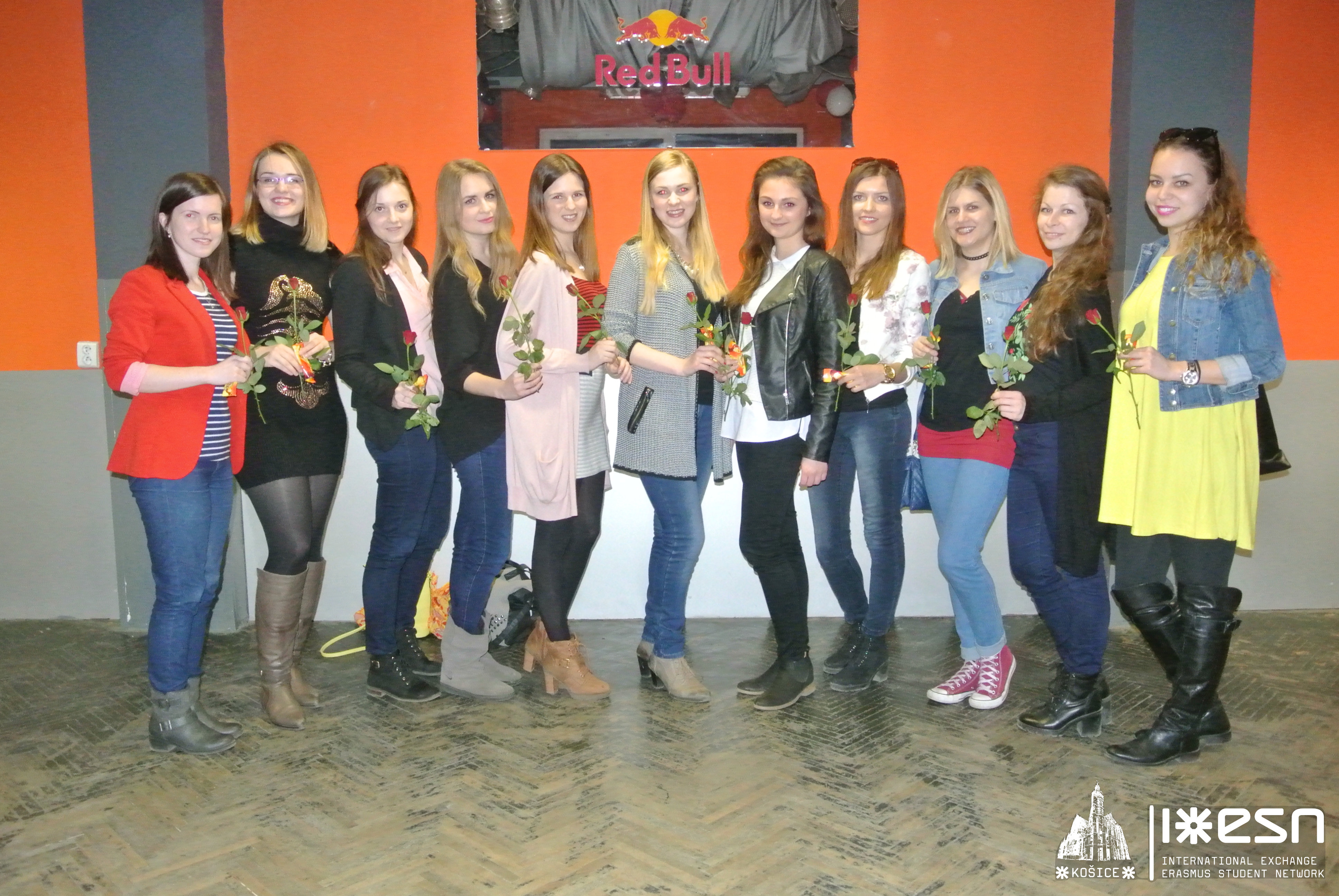 N2N French Night 29/3/2017
On Wednesday 29th of March we had opportunity to explore next country without crossing borders of Slovakia. All we needed to do was just come to Nation to Nation – French Night. All Erasmus students from France wanted to present their country, culture, cuisine and they did it perfect! After presentation where we could hear really interesting and funny facts about France that no one expected, we could try delicious food typical for different regions of France.
Justine Dollez (France): It was pleasure for us to cook for everybody and make them discover our culture! We are proud of the various French gastronomies. 20 French people, all coming from different parts of the France: perfect, each of us has his food speciality! That's why we cooked tapenade, typical aperitif from the south of the France, made with mashed olives. The tartiflette was a huge success, speciality from the mountains with potatoes, bacon, onions and reblochons (even if we had to use Camembert because we couldn't find our cheese in Slovakia). Hachis Parmentier, dish made with homemade mashed potatoes and lyonnaise sauce! Take time to be done but worth it. For the dessert we've made Far Breton, speciality from the Brittany region of France, similar to clafoutis. Then the indescribable choux à la crème : just taste them! And also the unavoidable chocolatey mousse! We cooked with our heart to make people discovered what we really are, we were excited about that and hope they enjoy as much as we did during the preparation!
Expectations of hosts of the evening were fulfilled. It is obvious also from claims of participants:
Evelina Glinskyte (Lithuania): In my opinion French N2N was the best till this time. They prepared a lot of tasty food and presentation was really funny. It wasn't boring, because they presented something new, not things what are known for everyone about France. You can see that they made it with some creativity.
Wanting Liu (France): We were doing all we can to prepare all and want to introduce France in an interesting way!
We think that French people succeed and presented their country in the best way! Merci!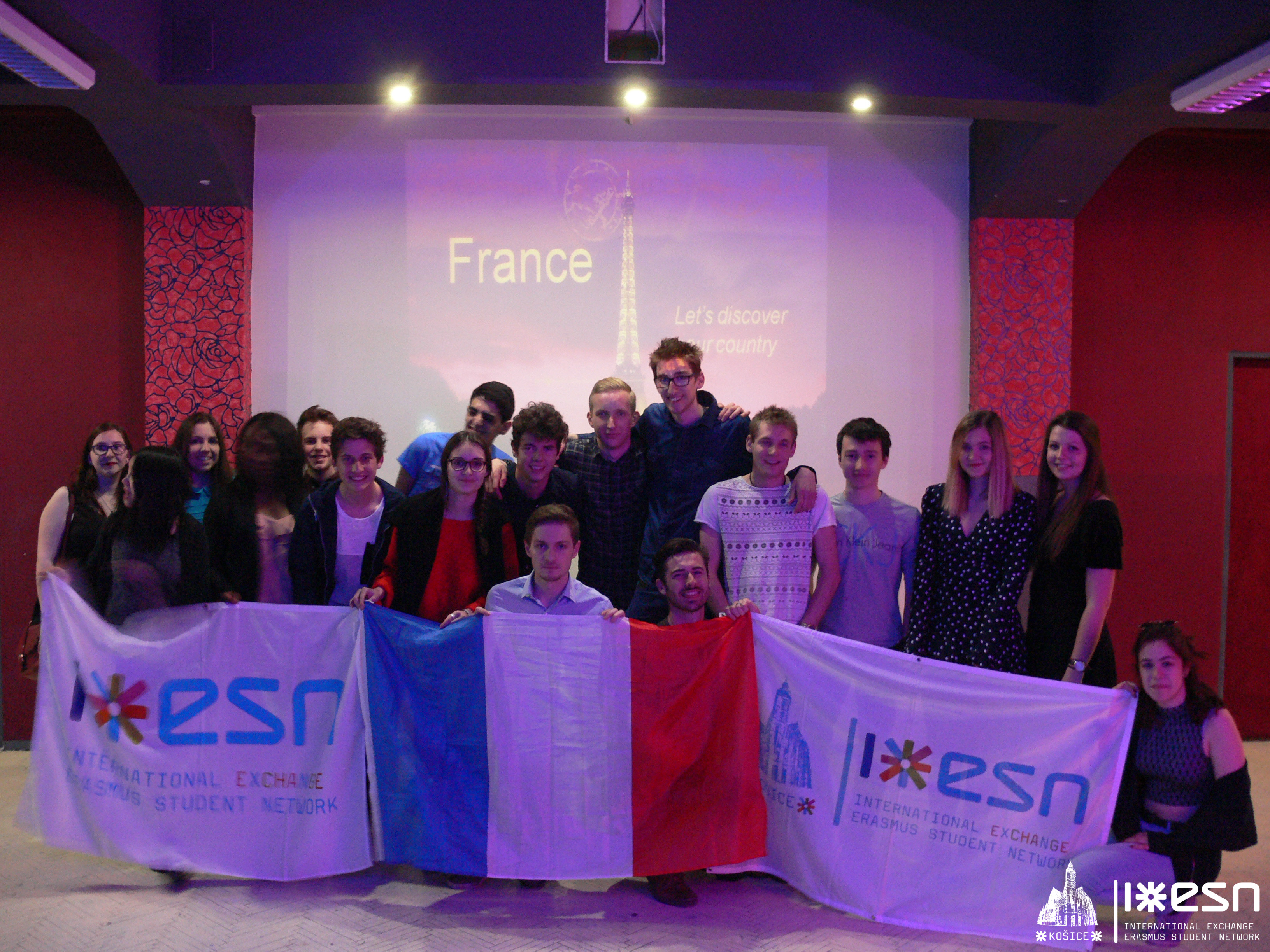 N2N Italian Night 10/4/2017
Another cultural evening from N2N edition is over and this time on 10th April we experienced Italian night. Despite the fact that according to Italian way of life, we did not started on time, the interesting presentation has made many faces smiling. Presentation was followed by food tasting, including delicious cakes for all the chocolate lovers. For those who are not fans of sweet food, various kinds of meals were prepared as well.
Ivan Meloni from Italy named all the meals which Italians prepared: "We prepared Pizza, Rustici, Pan cotto, Pasta al forno, Risotto with mushroom and cheese (risotto con funghi & formaggio), Supplì di riso con cacao e cocco, Torta al cioccolato, Torta alla crema di limone con crema pasticciera... I think that's all, we prepared many meals, so I hope I did not miss anything."
One of the guests of the event was Benjamin Joly from France who told us: "I participated to the Italian Nation2Nation, because there are so many of them this year. Firstly there was a quick presentation about their country which helped us to know more about 1/5 of the Erasmus. Then we tasted their food, hopefully we tried something original, I mean that all students already know pizza and pasta, I really enjoyed it because there were the quality and the quantity. Finally, we had a lot of fun.. actually, we have lot of fun on every event organised by great ESN KE!"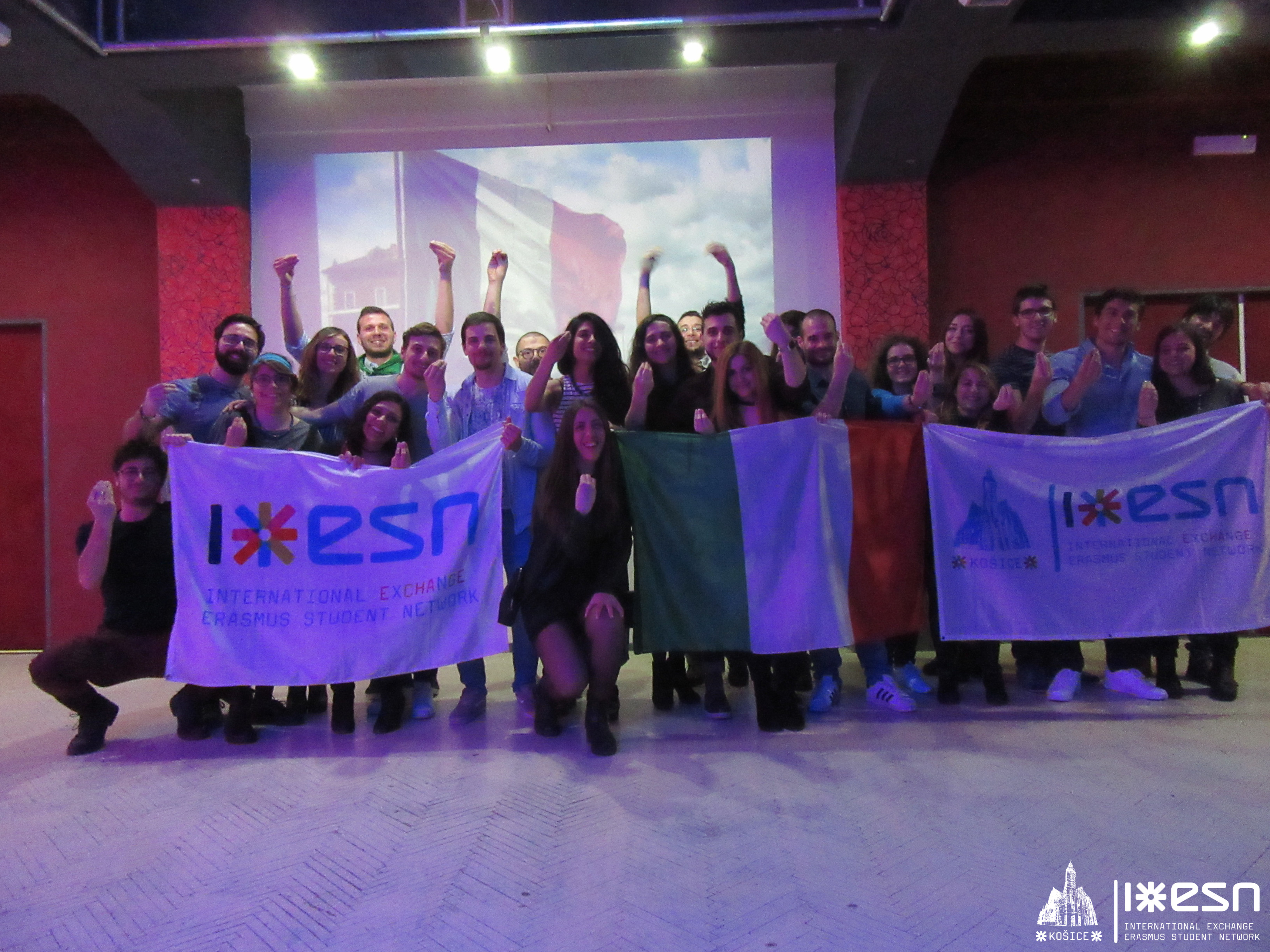 N2N Spanish Night 27/4/2017
Another version of popular cultural event belonged to Spanish students and to presentation of amazing country of Spain. Wild temperament was represented by charismatic David Moya, who led the presentation and presented most typical customs, habits, traditions and meals from Spain. We were also showed breath-taking pictures of well-known cities, same as the cities of our Spanish students. After the long and very interesting presentation full of new facts (which you cannot easily found on internet) typical meals were served. Rafael Llergo Flores from Cordoba names: "We prepared delicious meals like Ensaladilla rusa, Pan tumaca, Huevos rellenos, Tortilla de patatas, Empanada and Natillas."
Miguel Ángel Pacheco Moreno from Sevilla adds: "We chose to prepare those meals with aim to show the real taste of Spain but the same time they are really easy to prepare. In Slovakia it is hard to find some special ingredients, but we tried hard and we used some spices which we had brought from home to make an authentic taste." The clean plates were sign that all of the people who arrived really enjoyed Spanish cuisine. Ridvan Topcu from Turkey: "What I understood is that the food they had prepared was not for special days and they eat those meals in daily life. It's better because it makes us know about them more and we can figure out how do they live as Spanish."
After the event we all together headed to local Retro Club for Disco, which was organised by ESN KE and Retro Club. We were dancing whole night and I guess it made Spanish Night even more remarkable. Because Spanish people love to dance, actually all Erasmus students and ESNers like dancing to Spanish and latino melodies, it was other successful night out together.
N2N Euro Dinner: Polish+ Macedonian+ Lithuanian Night 10/5/2017
Thanks to diversity of our Erasmus students we have decided to connect three of our countries together, not to lose the experience of their culture and food. On 10th of May we have enjoyed traditional Polish Lithuanian and Macedonian food. Meals were served after presentations about countries where we were showed natural heritage, traditional dresses and also specialities of their cousine. We tasted pirogi filled with meat, also cabbage with tomato sauce called Bigos and delicious sweet pastry Sernik which is baked with sugar.
Reaction on this combinations of nations were really positive. "The atmosphere at N2N Euro dinner was great when we arrived, after while we started presentations about each of these countries. We descovered Polish Macedonian and Lithuanian nature are really similar. They have showed us tradional dances and customs also meals wetasted later on. My favourite was cabbage because I have never tasted something like this," said Ester Cecchela from Italy.
Authors: ESN KE: Terézia Kulíková, Katarína Lapčaková, Juliana Gregová, Natália Uramová, Patrícia Guzlejová
Photos: ESN KE