Popular Nation2Nation nights (not only because of the free food) are the best way to get to know a little something about cultural backgrounds of your new friends. This interesting concept connects people from a same nation to present their country, traditional customs, cuisine, or other special stuff to the others. All in all, everybody enjoys a funny presentation, food tasting, and a bit of a cultural programme. Feel free to join us for N2N nights this semester!
N2N: The Italian night                                                                                              12.10.2016
The first nation2nation night in the winter semester 2016 was held by Italians. A short video at the beginning introduced famous views of Italian cities and nature. The basic information about the country and its culture followed, which were given by students during the presentation. As expected, Italians proved themselves great hosts - there was a lot of food for tasting! And all of it amazing - bruschette, pasta al forno, pasta salad, crostata and delicious tiramisu. As for a free programme part, guests were challenged by the quiz about Italy - congratulations to the winning team: Mojon team!  
And a big thanks goes to Italian guys - it was a great night, thank you for having us!
N2N: Turkish night                                                                                                   26.10.2016
Another great Nation2Nation night spent by exploring Turkey! Two weeks after the first N2N event, Turkish guys got together to present their culture. Beginning traditionally with a presentation, common stereotypes about Turkey were proven as misconceptions - no, they are not all Arabs using arabic letters and riding camels in a big Turkish desert! And if you want to try their traditional food, do it in Turkey and ask for Kebab (not Kebap!). However, for a food tasting there were many others delicious dishes prepared - Mücver, Biber dolması, Patates salatası, Mercimek köftesi, Un helvası and Kabak tatlısı. Moreover, everyone got a chance to try Ayran, a typical non-alcoholic drink. The event ended up with a presentation of traditional dances, and the dancing mood was spread, so anyone could join in :)  
Thank you, Turkish guys, for preparing this awesome night for us!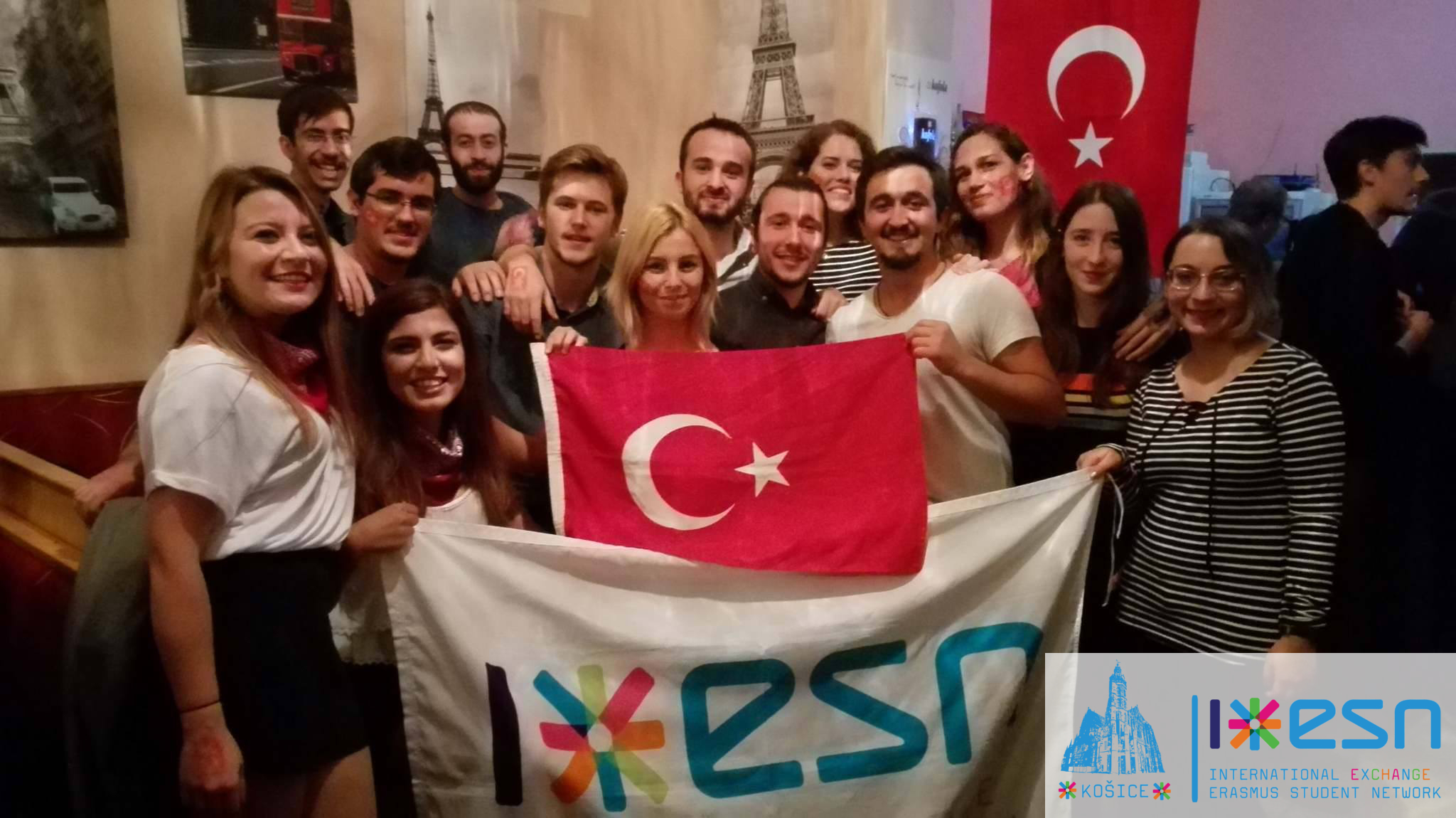 N2N: French night                                                                                                    10.11.2016
According to our expectations, Spanish people proved that they are not worse than the other international students and N2n Spanish night was one big great party too. We had an opportunity to try typical Spanish food and to get a lot of information about Spain. Big surprise was "small concert" when all the Spanish students started to sing typical spanish songs together. Some of them were also dancing and playing guitar so we can say that memories are really unforgettable. Typical spanish energy was present during whole night, when they presented their presentation about nature, cultural heritag and famous spanish people. They brought many flags and positive energy for everybody who participated.
Author: ESN KE: Katarína Lapcaková
Photos: ESN KE
N2N: Spanish night                                                                                                  24.11.2016
The third Nation2Nation night was held underneath the French flag. The feeling of a French style was visible from the beginning - guys presented interesting facts about their country in very elegant outfits. Later on, everyone could have a taste of: Pissaladière, Ratatouille, Quiche lorraine, Salade niçoise, Gateau au chocolat, Croissant, Gauffre, Tarte tatin, Fromage, and Crepes. The most surprising part of the night was a programme, which followed the presentation, and it was a karaoke! The most famous french songs were sung not only by French themselves. Many thanks to French guys, who prepared everything!
Author: ESN KE: Terézia Kuliková
Photos: ESN KE