Šariš isn´t only the name of one of the best Slovak beer, it is also name of the region at north-eastern part of Slovakia. And during age of knights and kings it was also known as place where was one of the largest medial Slovak castles. 
Unfortunately, it was destroyed after big fire in 15th century and now there are only ruins of this castle. In spite of the fact that there are only ruins, our Erasmus students decided to go for trip at Šariš Castle. We have met at train station in Košice and took the train to Veľký Šariš. When we were watching through the window in the train, it looked like perfect sunny day - ideal day for trip.
However, we had changed the opinion when we were crossing this small city - it was terrible windy (and wind was stronger than famous VKV). But we had found shelter in forest, so the way to the top of the hill was bearable. After 30 minutes of walking we reached our aim and when we entered gate of the castle, we forgot about wind and exhaustion because there was beautiful view. We visited remains of bastions, tower, took some photos and after lunch break and small walk around ruins of the castle we recognised that it´s not only perfect place for walking and making selfies. It´s also perfect place for playing hide and seek. However, we upgraded the game and created new version - find hidden vice-president of ESN. It was the same or even better fun than during our childhood!
And when we finally found Robert, we could go down from the hill to train station. We took the train to close city called Prešov. Local ESN members and erasmus students were waiting for us there and they showed us historical center of 3rd biggest Slovak city. Our next destination after small city tour was Mexico. There is neither any mistake nor any secret room with teleport in Prešov. There is just one restaurant called "Staré dobré Mexiko" so we decided to finish our trip to Šariš Castle with glass of the best Slovak beer - Šariš.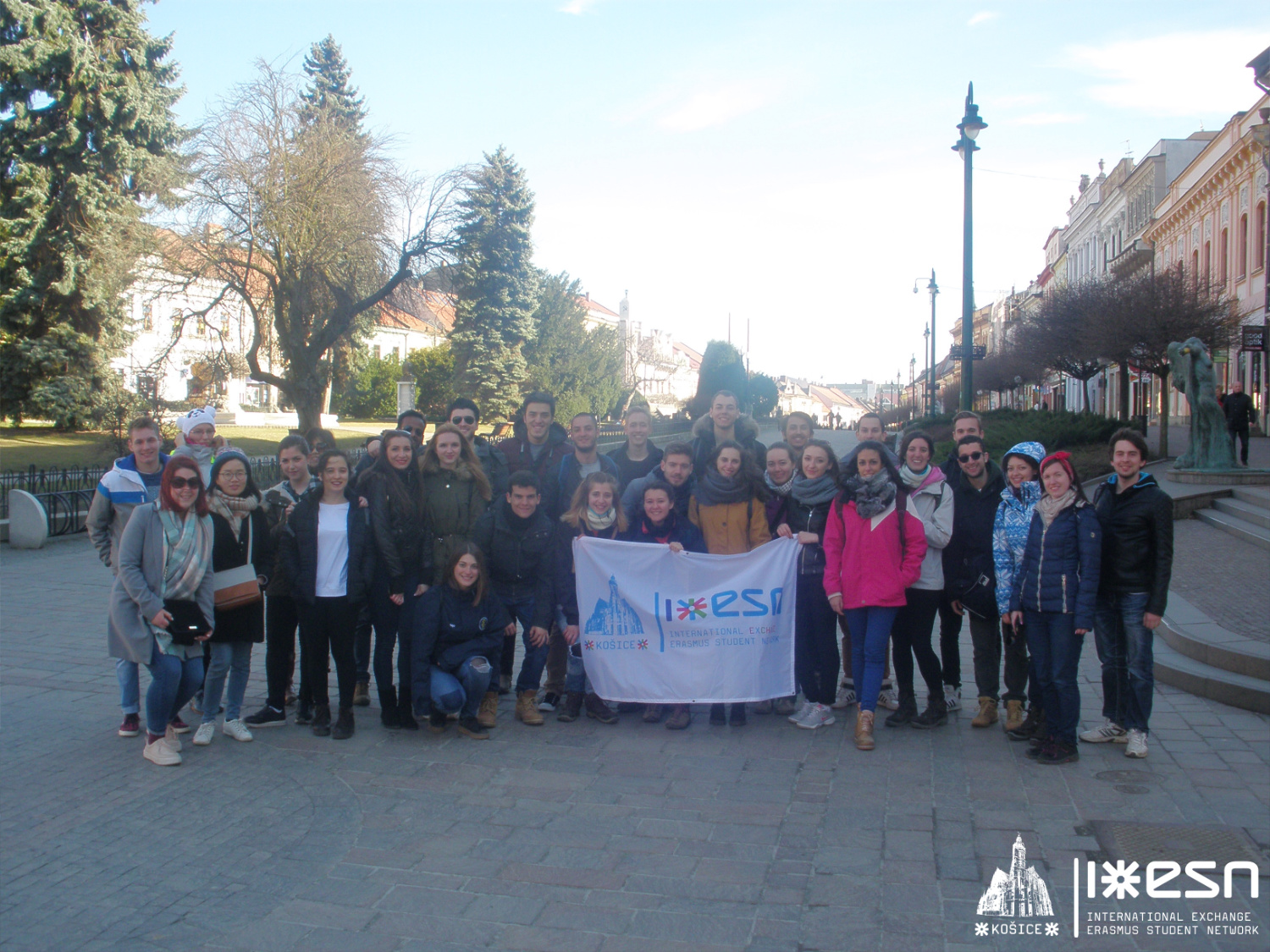 Trip seen by eyes of our Erasmus students:
Agnieszka Wagiel (Poland): Thing I like the most at the trip was possibility to climb to the vantage point from which I could admire beautiful landscape. I was also happy to hear about idea of integration in Prešov. It was a lovely Sunday.
Benjamin Mitifiot (France): We had great day with members of ESN Košice. The visit of Prešov and Šariš Castle was great. We didn´t forget to play unavoidable "skrývačky" in the ruins as well as tasting local beer Šariš. 
Ana Marija Petrova (Macedonia): The trip to Saris castle was great. I enjoyed the walking to the top and the view was amazing. On the way back we stopped in Presov. Small and beautiful city that reminds me Kosice. I think I will visit it again. 
Authors: ESN KE: Juliana Gregová
Photos: ESN KE